It's been so long since we met at Formnext!
3DCeram, will be at Formnext (Hall 12.0 Booth C18) in Frankfurt from the 16th to the 19th of November.
Europe's leading 3D printing event, Formnext, is reopening its doors after almost two years due to the pandemic.
Meanwhile, if you've been following us on social media, you'll know that we've been working hard to continue our developments and better serve your ceramic 3D printing needs.
What we are talking about today, even more than yesterday, is mass production with our 3D printers.
We have chosen stereolithography technology so that we are not limited in terms of build platform size. Two years ago, we launched the C3600 ULTIMATE with its large 600*600*300 mm build platform. This is a great opportunity for printing a vast quantity of small parts or for printing very large parts.

Thanks to the work of our engineers, we have developed printing strategies that increase the performance of the machine.
On the formulation side, work is still being carried out. We develop and produce mixes that are available to our customers for industrial applications in aerospace, aeronautics, medical and many other fields.
In addition, we have set up support services that respond to this industrial dimension. The programme includes training courses that enable you to develop your skills in 3D printing of ceramics.
Our machines will also allow you to develop your own formulations, oxide or non-oxide, with the open parameters offering you several possibilities and helping you to become a 3D Printing expert!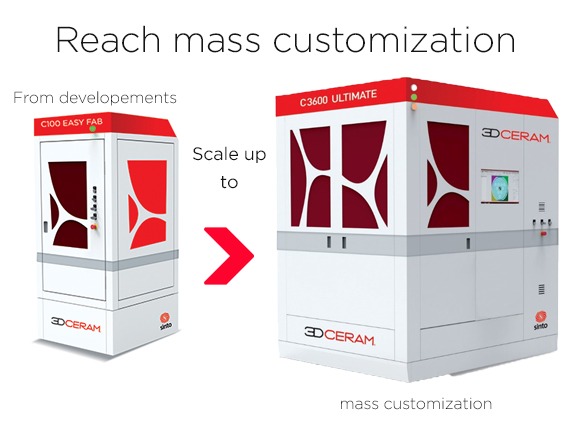 We look forward to meeting you on our stand to discuss your industrial and other projects… from 16 to 19 November 2021 Hall 12.0 stand C18. See you soon…!