Limoges, April 3, 2018 – On the occasion of Ceramitec, which will be held from April 10th to 13th in Munich, 3DCeram-Sinto (www.3dceram), the number one in the field of 3D ceramic printing that unites a group of expertise in the field of materials and processes for 3D printing of ceramic objects, announces its partnership with a major player in technical ceramics, the German experts DORST Technologies.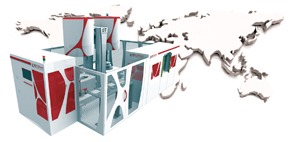 This Franco-German alliance will enable 3DCeram-Sinto to accelerate its commercial development in the overseas markets, in Northern Europe but also in the United States, where DORST Technologies is established. This partnership will enable customers of both companies to increase their production capabilities for 3D ceramic printing parts and support the international expansion of 3DCeram-Sinto.
A major player in German industry, established 150 years ago, DORST Technologies is located in the Munich area. The group is present in Europe, Asia, USA and has over 2,000 customers in more than 70 countries. A world-renowned leader, DORST, a specialist in technical ceramics, manufactures complete machines and production systems. The company specializes in processing, shaping and automating raw materials. Its technological excellence places innovation at the heart of its strategy.
Richard Gaignon, co-director 3DCeram-Sinto: "The signature with DORST Technologies is an important marker in the history of our company. This alliance with a leading player in technical ceramics confirms our global leadership around 3D ceramic printing. The collaboration increases our current capacity to market our offer to all potential customer in technical ceramics and reinforces the support of our current customers in their innovative projects in the aerospace, medical, or industrial sectors such as automotive. "

This Franco-German cooperation ensures perfect compliance of local production with the same high-quality standards throughout the world, while remaining close to the needs of customers.